Regular price
Sale price
£83.94 GBP
Unit price
per
Sale
Sold out
Perfect for using lat pulldown machines
A great device to help you maintain shoulder strength
No adaptions need to be made to standard gym equipment
Enables you to use rowing machines and hand bikes if you have limited hand function
The Active Hands looped gripping aid is designed for people with limited hand function and enables them to use a wide range of gym equipment, without needing to be able to grip the bars. If you have had a stroke, suffered a spinal injury or developed a condition that affects your hand function, the Active Hands Looped disability exercise aid will enable you to maintain your fitness without any adaptations to gym equipment.
The looped disability exercise aid features strong loops which can be slipped over the handles of some exercise machines. Examples being, pull-down bars and rowing machines. The looped exercise aid also works great for hand bikes, allowing you to operate them without tensing up your wrist.
When not under tension, the looped exercise aids can easily be removed off your machine or handbike, allowing you complete independence and the ability to let go during rest periods.
All Active Hands gripping aids are built to last. The aids are made from tough webbing and comfortable but durable neoprene, which is used to make wet suits. The looped disability exercise aid will withstand regular use, even for strenuous activities. They are also machine washable
The looped exercise disability aid is only available in small/standard size, so please refer to the sizing guide below to ensure they will fit. The looped disability exercise aid is sold as a pair, including both left and right hand.
Scroll down to see a video of this amazing aid in action.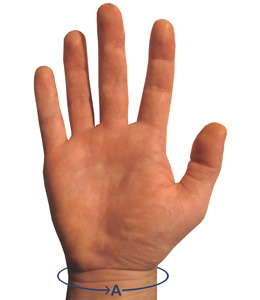 A = Wrist
Small/Standard:
135mm – 185mm
5.3″-7.2″
https://www.youtube.com/watch?v=yZIe451NrN0&feature=emb_logo
Share
View full details