Regular price
$108.00 USD
Regular price
Sale price
$108.00 USD
Unit price
per
Sale
Sold out
Perfect for doing chin-ups
Provides a steady grip on rowing machines and lat pulldown machines
Enables you to maintain your fitness if you have limited hand function
The Active Hands hook exercise aid is designed to enable people with limited hand function to exercise efficiently. If you have had a stroke, suffered a spinal injury or developed a condition that affects your hand function, the Active Hands Hook disability exercise aid will ensure that you maintain your fitness and independence.
The hook disability exercise aid allows you to grip and release equipment in gyms. The aid works great in situations where the Active Hands looped disability exercise aid cannot be used due to closed-ended bars.
The aid features a cleverly shaped, strong stainless steel double hook. This provides stability under tension and a grand pulling force that mimics a real strong grip feeling when in use. The metal hooks have a thin v-shaped section with an elastic loop attached. The elastic loop is placed around the finger and prevents the hook from flopping down under its own weight when grabbing an overhead bar or when your arms are forward.
This makes the Hook disability exercise aid far more versatile than its rivals, which only perform well when lifting upwards from the ground.
The Hook disability exercise aid includes four silicone tubes for optional use. The aid can be used without the tubes fitted, however, you may wish to fit them to the two hooks. By doing this, you give yourself a level of padding and increased grip on metal bars. Simply apply some lubricant and push the tubes onto the hooks.
All Active Hands gripping aids are built to last. The aids are made from tough webbing and comfortable but durable neoprene, which is used to make wet suits. The hook disability exercise aid will withstand regular use, even for strenuous activities. They are also machine washable
The hook disability exercise aid is only available in small/standard size, so please refer to the sizing guide below to ensure they will fit. The hook disability exercise aid is sold as a pair, including both left and right hand.
Scroll down to see a video of this amazing aid in action.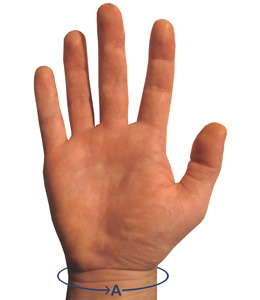 A = Wrist
Small/Standard:
135mm – 185mm
5.3″-7.2″
https://www.youtube.com/watch?v=pNbof5Rr0Dw&feature=emb_logo
Share
View full details